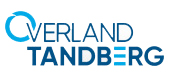 Overland Tandberg Data RDX QuikStation 4

Highly flexible removable disk array for automated data protection, disaster recovery and archiving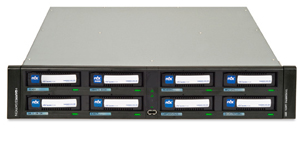 Overland Tandberg Products
Overland Tandberg Data RDX QuikStation 4
RDX QuikStation 4, 4-dock, 1GbE-attached Removable Disk Array, 1U Rackmount
#8920-RDX
Our Price: $2,634.00
RDX QuikStation 4, 4-dock, 1GbE-attached Removable Disk Array, 1U Desktop
#8922-RDX
Our Price: $2,756.00
Click here to Jump to Pricing!
Overview:

The Overland Tandberg Data RDX® QuikStation™ 4 is an iSCSI network-attached removable disk array designed to provide a flexible platform for data protection and off-site disaster recovery for physical or virtual SMB and SME environments as well as Hybrid-Cloud applications.
The RDX QuikStation 4 provides four integrated RDX drives. Combined with Overland Tandberg Data's high capacity RDX removable media, the system offers online storage with unlimited offline storage capacity.
RDX QuikStation 4 Advantages
High Performing Network Storage
For maximum performance and resiliency, the unit provides two bonded Gigabit Ethernet (GbE) ports with load balancing and failover capabilities. With its groundbreaking flexibility and ease of management, the RDX QuikStation is the "Swiss Army Knife" of data protection.
Fits in various Environments
The iSCSI connectivity of RDX QuikStation enables an easy integration into physical and virtual environments and also Hybrid cloud storage architectures. Providing four RDX iSCSI targets, up to four application server can utilize their own removable disk storage device.
Overcome Capacity Limitations
By spanning RDX drives in the QuikStation together, the capacity limitation of one single RDX media volume can be extended, but still maintain all RDX benefits of removability and protection of customer's data.
Flexible and Simple
The RDX QuikStation is designed and manufactured by Overland Tandberg Data to be enormously flexible while being simple to setup and manage. The onboard multi-language web-based management console provides for remote configuration, control, security, and management from a standard web browser. RDX QuikStation offers automatic software updates / maintenance via the internet.
RDX Technology Features
Combines the advantages of disk and tape
Entry-level tape alternative
Shock-proof and static-proof media
Highly compatible: USB/HDD
Extremely easy to install and use
Professional reliability
Various media capacities from 500GB to 3TB and SSD media from 128GB to 256GB
Major system OEM acceptance
10-year media shelf life
3-year media warranty
Encryption capable
Benefits:
Overland Tandberg Data RDX QuikStation 4 Benefits:
Features
Benefits
Versatility
Ideal device for backup, archiving, data distribution and data seeding for businesses.
Network connected RDX
iSCSI connectivity allows easy integration into virtual, physical or hybrid environments for versatile storage applications.
Removable Disk Storage
RDX combines the benefits of disk and tape, allowing fast and secure data access with long term off-site archiving.
No Capacity Limitations
Volume spanning to overcome single RDX media capacity limitation. Removability for unlimited off-site storage capacity.
Windows® Backup Compatibility
Use removable disk media with Windows Backup Utility.
Manageability
Accessible from any standard web browser for user-friendly administration as well as automatic software updates.
No Media Compatibility Issues
Full forward and backward compatibility to all RDX media means no data migration effort.
Desktop and Rackmount Versions
The QuikStation 4 can be integrated in existing 19"-racks as well as placed on a desk for use in small office environments.
Green features for minimal power, cooling, and space requirements
RDX removability means that RDX media that is not currently in use can be taken offline to minimize data center power and cooling needs. High density 1U Form Factor packs a lot of functionality in a very small space minimizing impact on data center space requirements.
Dual Gigabit Ethernet (1GbE) ports
2 x 1 Gigabit Ethernet provides high availability network connectivity. Bonded, active backup/failover or adaptive load balancing.
Compatible with major backup software packages
Facilitates easy integration into existing data protection infrastructures. Compatible with Windows®, Linux, and Mac.
Easy to Setup and Use
Start protecting data fast, no special knowledge or training required.
Specifications:
Overland Tandberg Data RDX QuikStation 4 Specifications:
Formfactor
1U Rackmount
Desktop
Part Number
8920-RDX
8922-RDX
Capacity
Cartridge dependent (online): 12TB using 4 x 3TB pieces of media, unlimited offline capacity
Data Transfer Rate
Up to 200 MB/s (2 x 1 Gigabit Ethernet speed)
concurrent read/write operations
Logical Media Move Time
<1 second
Network Connectivity
2 x 1 Gigabit Ethernet, bonded, active backup/failover or adaptive load balancing
Configuration Options
1-4 individual RDX QuikStor removable disk targets (addressable via 1 to 4 hosts)
1-4 individual RDX QuikStor fixed disk targets (for Windows Backup)
1 Logical Volume across all RDX drives (removable and fixed disc mode)
Remote Management
Integrated browser-based management console with multi language support for English, French, German, Spanish, Italian, Norwegian, Russian, Chinese & Japanese.
USB Ports
Front USB3.0 x1, Rear USB3.0 x2 and USB2.0 x6
Removable Media Drive
4 x RDX drives
RDX Media Compatibility
Backward & Forward compatible will all RDX media and RDX+ media generations: 500GB, 1TB, 2TB or 3TB (HDD); 128GB or 256GB (SSD)
Environmental Specifications
Power Input
100 – 240 Vac, 50 – 60Hz
Power Consumption
<90 Watts, typical
Environmental Compliance
EU RoHS, China RoHS, REACH, WEEE
Safety & Regulatory
FCC Class AB, UL, CE, TÜV-GS, CB C-Tick, VCCI, AS/NZS CISPR22, NMB-003, KCC
Product Specifications
Unit Dimensions (DxWxH)
478mm x 440mm x 43mm / 18.82in. x 17.32in. x 1.69in
481mm x 464.5mm x 68mm / 18.94in. x 18.29in. x 2.68in.
Packaged Dimensions
655mm x 605mm x 220mm / 25.8in. x 23.8in. x 8.7in. (DxWxH)
Net Weight
5.98kg / 13.18lb
9.77kg / 21.54lb
Gross Weight (Packaged)
11.3kg / 25lb
13.6kg / 30lb
Operating Temperature
10° – 40°C (50° – 104°F)
Non-Operating Temperature
-20° – 60°C (-4° – 140°F)
Operating Humidity
20% to 80% (Non-condensing)
Other Features
Included in the Box
Ethernet cables (2), US and Euro power cords, USB Flash Drive, Rackmount Kit (rackmount version only), Quick Start Guide (RDX media not included)
Warranty
3-Year Bronze Level Support (Advanced Replacement Service, where available)
Overland Tandberg Products
Overland Tandberg Data RDX QuikStation 4
RDX QuikStation 4, 4-dock, 1GbE-attached Removable Disk Array, 1U Rackmount
#8920-RDX
Our Price: $2,634.00
RDX QuikStation 4, 4-dock, 1GbE-attached Removable Disk Array, 1U Desktop
#8922-RDX
Our Price: $2,756.00
RDX QuikStation 4 - Service and Warranty Extensions
Service Onsite 3 years 5x9xNBD, warranty extension for QuikStation 4
(8920|8922-RDX onsite service extension for year 1-3)
#T06201-SVC
List Price:
$849.00
Our Price: $743.00
Service Onsite 1 year 5x9xNBD, warranty extension for RDX QuikStation 4
(8920|8922-RDX onsite service extension for years 4 or 5)
#T06202-SVC
List Price:
$749.00
Our Price: $618.00
1 year Advanced Replacement warranty extension for RDX QuikStation 4
(8920|8922-RDX warranty extension for years 4 or 5)
#T06203-SVC
List Price:
$429.00
Our Price: $344.00
Overland Tandberg Data AccuGuard Software
RDX AccuGuard Server Edition Software (only works with RDX) (Includes 1yr technical support and software maintenance)
#5003-ACC
List Price:
$99.00
Our Price: $80.00
AccuGuard Enterprise for RDX (Manager Server) (Includes 1yr technical support and software maintenance)
#5013-ACC
List Price:
$399.00
Our Price: $338.00
1 Year Additional Technical Support and Software Upgrade Subscription; AccuGuard Enterprise for RDX
(Covers 1x AccuGuard Enterprise for RDX with all add-on Server & Desktop licenses)
#5103-ACC
List Price:
$159.00
Our Price: $135.00
2 Years Additional Technical Support and Software Upgrade Subscription; AccuGuard Enterprise for RDX
(Covers 1x AccuGuard Enterprise for RDX with all add-on Server & Desktop licenses)
#5104-ACC
List Price:
$249.00
Our Price: $227.00