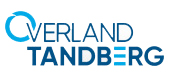 Overland Tandberg Data Backup in a Virtual Environment

Veeam Backup and Replication
Virtual environments are growing also in the SMB market. About 72% of SMBs have already implemented server virtualization* and this number is growing permanently. Virtualization enables your computers to run multiple operating systems and applications, making your infrastructure simpler, more efficient and saves operation costs. The role of backup and disaster recovery gets more important, as physical servers and storage is consolidated to a minimum.
Overland Tandberg Data and Veeam Software have a technology partnership and provide you a turnkey solution on backup for virtual environments based on Overland Tandberg Data's products and Veeam Backup & Replication. All products are tested and verified with Veeam Backup & Replication V7, so you can benefit from Overland Tandberg Data's broad range of disk-based and tape-based solutions. You don't need to worry about integrating Overland Tandberg Data components into Veeam Backup & Replication.
Veeam® Backup & Replication™, the #1 BACKUP SOFTWARE FOR VMWARE® AND HYPER-V®
Veeam Backup & Replication is a data protection and disaster recovery solution for virtual environments of any size and complexity. Veeam Backup & Replication provides fast, flexible, and reliable recovery of virtualized applications and data. It unifies backup and replication in a single solution, increases the value of backup and reinvents data protection for VMware vSphere and Microsoft Hyper-V virtual environments. Veeam Backup & Replication supports your entire virtual infrastructure with industry leading features such as instant file-level recovery and streamlined VM recovery, scalability, 2-in-1 backup & replication, built-in de-duplication, centralized management and many more.
Complete Disaster Recovery
As Veeam Backup & Replication supports tape from Version 7 on, you can implement a complete disaster recovery scenario including primary backup to disk and secondary backup to removable media like Tape or RDX®. The secondary backup should be stored off-site to be protected against occurrences like flood, fire or earthquakes.
* Spiceworks semi-annual report "State of SMB IT 1H 2013"