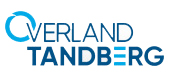 Overland Tandberg Data Windows Backup with RDX QuikStor
Many users take advantage of the backup capabilities that are included with Microsoft Windows Operating Systems. The built-in Windows Backup included with current Windows operating systems, however, does not support removable media such as CD, DVD and tape. In order to back up the system or user data with removable storage products and Windows Backup, a user must back up to a fixed local disk or incorporate third-party backup software that recognizes the removable storage device.
RDX® QuikStor™ removable disk technology solves this problem by providing a fixed disk mode that allows RDX removable storage to be used with Windows Backup for data protection operations. This includes scheduled backup system protection, along with media-rotation, for both onsite and off-site disaster recovery protection.
COST ADVANTAGES
Delivers economical backup that is included with Windows operating system
Provides an alternative to third-party backup software
Reduces ongoing software maintenance costs
Simplifies long-term backup plans with OS-included software
Minimizes training and support costs
IT WORKS WITH RDX QUIKSTOR:
Media rotation capability
Full system backup and restores
Scheduled backup operations
Scripted backup operations
Onsite and off-site data protection advantages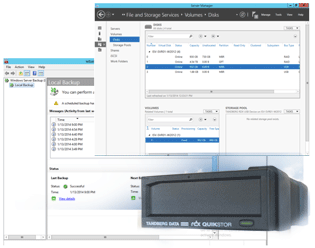 Take Advantage of Deduplication and Media Rotation
Windows Server 2012 provides data deduplication on disk volumes. This feature dramatically saves disk space. As a result, backup volumes that are deduplicated run faster as less data has to be transferred. This allows RDX QuikStor to retain more backup versions which results in longer data retention. Windows Backup is able to handle multiple backup targets to implement media rotation. This media rotation allows users to keep multiple backup copies. With RDX removable media, at least one backup copy can be stored off-site for disaster recovery.
Benefits
The combination of Windows Backup and RDX QuikStor delivers an affordable and easy-to- use solution with the benefit of a removable media for off-site disaster recovery. Now, upgrading to the newest Windows OS is easy and there is no need to add-third party software, which saves time and money.
Download the Windows Backup Datasheet (PDF).