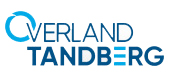 Overland Tandberg Data Digital Media and Broadcasting
In digital media and broadcasting, many tasks must be accomplished from ingesting raw content, editing, mastering, broadcasting and archiving a completed work. This workflow is includes creating, duplicating, transferring, storing, securing and archiving data. Overland Tandberg Data/Overland Storage provides a complete set of digital media storage solutions for all of these workflow steps.
The post production workflow
Post production is a multi-task process that takes raw video and sound elements through mastering. On the front of this process is offloading original content from expensive camera storage so it may be deployed again in production. Also multiple copies of the content are needed to support the various editing workflow, distribution to producers and data protection.
Many times Tape and/or external disk storage is used to distribute films or movie sequences. Care must be taken to choose high quality storage products that are designed to withstand the rigors of transportation including drop protection, vibration and electrostatic discharge.
LTO-Tape drives are expensive to deploy and not as easy to install and use as disk solutions. All production sites will require a LTO tape drive and even the same LTO drive generation and software for compatibility. Robustness of LTO cartridges is also limited with transportation and daily use in harsh environments like dust or humidity. Tape drives are also limited in usage cycles and are sensitive against drops.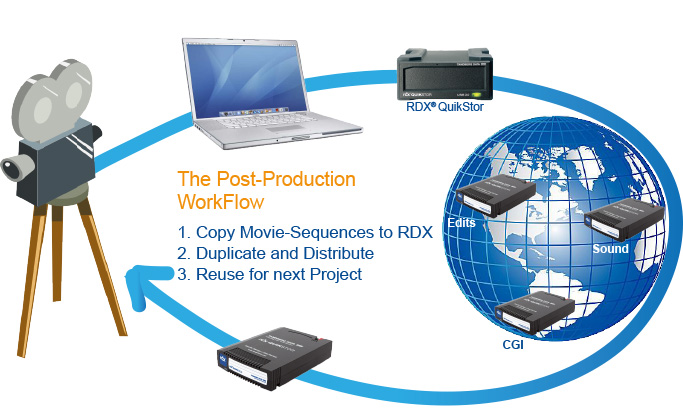 Overland Tandberg Data's RDX® QuikStor™ removable disk is a perfect high value solution for post-production workflow and footage distribution. Random access and native file system operation makes it simple for content management. The rugged design ensures reliable operation throughout the post production process. RDX is designed to withstand drops, shocks, vibration and static and needs no special care during transportation or shipping. The RDX USB3+ external drive simply connects via a USB3.0 cable to almost any system without compatibility issues. It is a portable device and can be easily used directly at the outdoor set for transferring the video sequences from camera storage. RDX drives are future proof and include compatibility with all RDX media generations and vice verca. Easy to deploy and highly affordable RDX connects easily workstations and servers with USB 3.0 or SATA.
For more Information, download the Solution Brief "RDX for Video and Broadcasting Professionals".
RDX at a glance
Plug & play installation
Durable media & drives
Rugged for courier delivery and handling
Match capacity to workflow requirements
Business grade storage
SSD or HDD media
Up to 31hrs* of video on 3TB media
Stor 1 hour* of video in less than 4min with SSD
* ProRes422 (HQ) format, Resolution 1280x720 (720p50))
Asset Consolidation
With native file system operation RDX storage technology supports Media Asset Management (MAM) systems. For single disk uses RDX QuikStor drives connect to the asset management server. If more than one cartridge is needed to be processed or in parallel, RDX® QuikStation™ is a capable alternative. The RDX QuikStation is a removable disk array with 8 RDX drives and connects with iSCSI. Each RDX drive is a single iSCSI target and is presented as a local disk drive to the server which is recognized by the MAM application.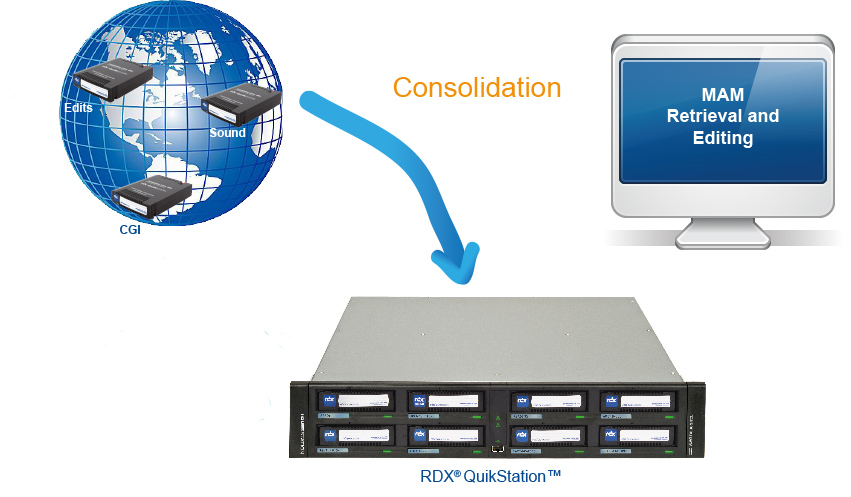 Editorial and Mastering
For finalizing digital content within the media asset management system, it is important to have fast access to all assets and to expand storage capacity on demand and without interruption. SnapScale is a scale out NAS system which offers infinite scalability by just adding additional drives or nodes. Automatic load balancing provides optimal performance across the entire system. SnapScale clustered NAS provides high availability features to ensure non-disruptive production.
Securing the video workflow
In the digital media and broadcasting realm, backup copies and archiving is mandatory to secure and protect valuable assets. Backup and Archiving are different tasks. While backup secures data and is used for restore of files, folders or systems for version history or after data loss, archiving is used to store data long term and/or for regulatory compliance requirements. Many times tape is used for archive due to the low media cost and high reliability and transport capability. Inexpensive offsite tape copies support an added level of protection.
Very often, footage is reused and edited for new productions. Keeping all versions on production storage can cause exponential and difficult to manage data growth. Archiving obsolete assets to tape with tape drives or tape automation solutions can free up production disk capacity, optimize software processing, and shorten production backup windows. LTO technology with LTFS provides for an industry standardized tape format for all digital asset managers.

Overland Tandberg Data/Overland Storage tape and tape automation solutions come from 30 years of experience that ensures strength and high reliability is designed in. The Latest LTO technology and enterprise class robotics bring high performance and durability. Asset managers can choose tape connectivity alternatives including SAS, Fibre Channel, and Thunderbolt along with superior service and support included.